Some portable belt sanders come ready to clamp down to your work bench and sand like mini stationary belt sanders. For the rest of us, we have these nifty belt sanding jigs and stands! The tool sharpeners out there will appreciate the tool sharpening stands – get your angles right and you can get your tools super sharp!

Enjoy!
3) Tool Rest for a Belt Sander for Sharpening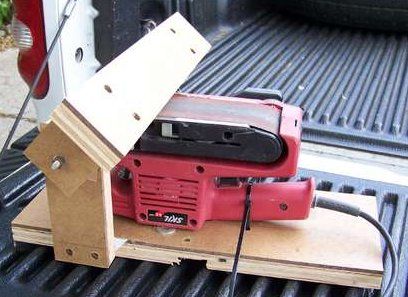 4) Sander Jig Popular Mechanics Nov 1983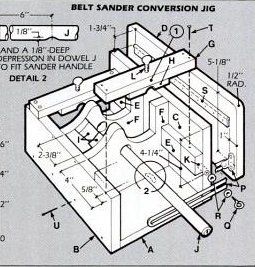 5) Tool Sharpening With a Belt Sander Popular Science Oct 1985

6) Belt sander / sharpening jig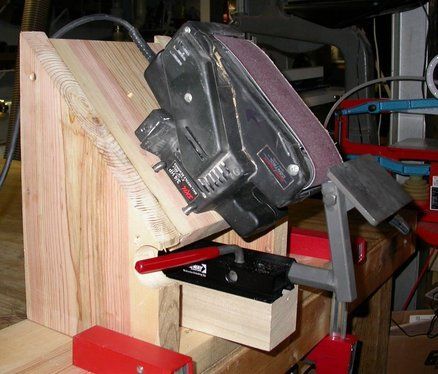 7) Belt sander stand, made with 4 pieces of scrap steel.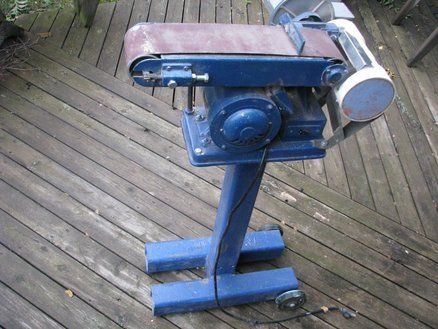 10) Use Bench Vises, Workmates and Clamps
More Belt Sander Jig Resources and Ideas:
Getting the Most from Your Belt Sander: American Woodworker 1997
Portable Belt Sander Comparison: American Woodworker 1995
Belt Sander Basics: Popular Mechanics Sep 1979
Sharpening jigs + belt sander
belt sander jig??
Sanding Stands Add Versatility to Belt Sanders